Project training refers to getting well trained in a field. An internship is very important as it makes you industry-ready. Doing an internship under experts is the dream of many. Correct first-time exposure to an IT-field can build the career of a fresher at once.
It is tough to take the first step when someone is switching from theoretical knowledge to its practical application. So, Unnati Informatics LLP provides you with an opportunity to make this transition smoothly and sincerely. We firmly assist you at every step to become an accomplished software developer or professional IT personnel. 
We are the best IT company that gives free project training in Ahmedabad. If you are looking to work on live projects then you have come to the right place. In Unnati Informatics LLP, you get a chance to learn from the best. Our experts have worked on thousands of national and international projects over an expanse of 15 years. 
They have trained many enthusiasts and turned them into successful software developers and IT professionals. We provide live project training in a planned and systematic way, so do not get lost mid-way in the ocean of IT-industry. You are guided step by step in this journey of project training. 
We give free training to interested and determined individuals who are willing to learn new and exciting things. 
We provide live project training to individuals who have the following degrees,
Diploma in IT
B.E IT
B.Tech 
BCA
MSc. IT 
MCA
You can make your future bright and better by doing project training at our place. We are the best project training company in Ahmedabad.
We offer live project training in different fields of software development. You get an opportunity to learn from industry experts. 
By training with us, you learn about the professional working style of an IT firm. This will help you a lot in your future endeavors. And you also get to work with the latest technologies in the digital world. 
We give expert training in the following fields,

Website Designing & Development- 
We offer you a platform to learn about all aspects of website design and development. Right from a single static page of plain text to sophisticated web-based applications, we provide you hands-on training on all. During the training period, you get to know about UX/UI, web engineering, web designing, and web content development. You also gain complete knowledge on e-commerce development, web server, client-side/server-side scripting, and network security configuration.  We give the best web development project training in Ahmedabad. 
SEO Services-
We train you in knowing about the latest and most up-to-date SEO tactics and strategies. We train you to know about white hat SEO techniques.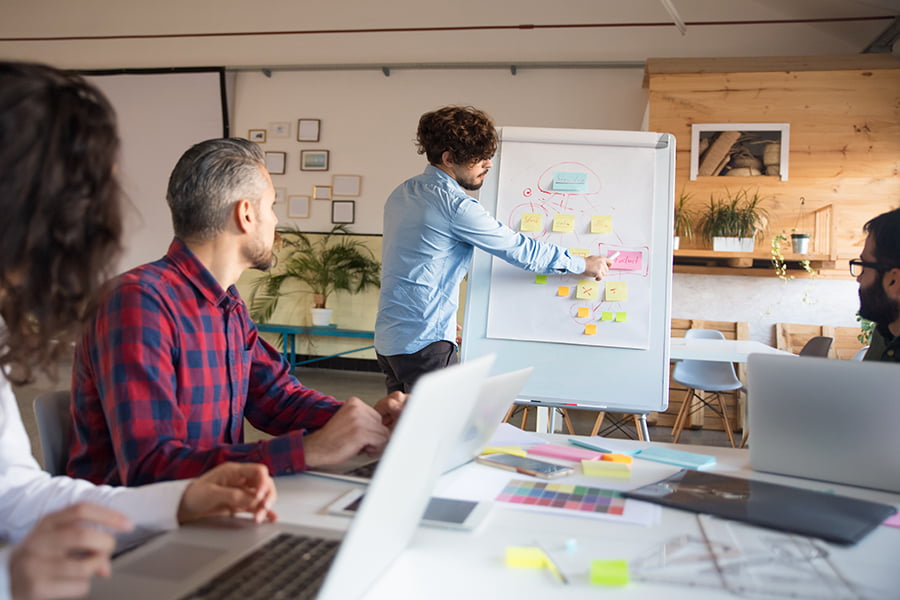 "A lifelong learner is a lifelong winner." ― Matshona Dhliwayo
Software Testing- 
This is very important after the development of any software. There is a high demand for software testers. We train you on how to find bugs in the software and make sure they do not creep back. You get to know about the SRS document, how to review them and create test scenarios. You will learn how to make a Test Plan Document from scratch, write test cases, test execution, bug tracking, defect management, and status reporting. We give real-time examples, artifacts, and deliverables for project training. 
Android App Development- 
We provide real-time android app project training. Our training helps you to become a certified android developer. You will learn about how to set up the android environment. We help you to master its architecture, user interfaces, activities, layouts, controls, services, and multimedia APIs. Not only will you get hands-on experience in developing trending applications but also mastering it.
We do not jump steps in android app development because it requires a certain level of skill that is very necessary for becoming a certified android app developer. Right, from the basics of Android Studio to default (IDE)integrated development environment, which is supported by Google to develop Android apps, you learn everything here. 
"Knowledge is of no value unless you put it into practice". – Anton Chekhov
Software Development-
You get to enhance your logical, analytical as well as interpersonal skills by working on live projects. You get a thorough insight into the intricacies of the complete project life cycle, learn various strategies and approaches for developing arete products. We assist you in becoming comfortable with all layers of software product development. Moreover, we get you acquainted with mobile, web, or a native application stack. You get extensive project training on ASP.NET MVC. 
The best thing is you learn all the facets of working on live projects. You gain experience on how to cater to clients' requirements and keeping up with the changing demands. With us, you develop not only your technical and core skills but also soft skills and interpersonal skills. We help you to become the candidate who is sought by every company. 
With us, you will learn to understand the different nuances of customer's requirements, work accordingly, and deliver the products and services right on time. We give you an authentic certificate of training after completing it and make well-prepped for placement and job-ready. 
We are amongst the top 10 IT companies in Ahmedabad. To get the best project training  contact us at 9879310901 Or mail us on info@unnatinformatics.com.