There are many school management software in Gujarat. All have distinctive attributes for making school's work easy and fast. Here, we will highlight some features of the top 10 school management software in Gujarat. Before listing out the features, let's understand the benefits of a school ERP.
School management software enhances efficiency in working. It promotes paperless execution of administrative and clerical tasks. School management software is best known for saving time. It makes working smart and more productive.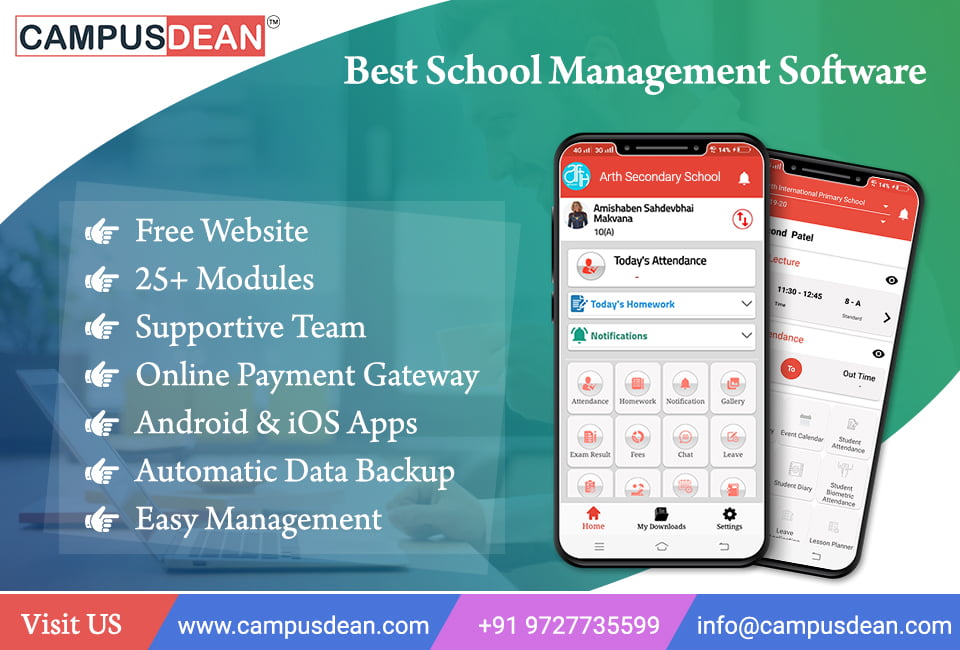 What is a School Management Software?
School management software is an ERP designed for schools. School management software is known by different names such as school management system, school ERP, and school software. There are two types of school management software, offline and online-based. Some school ERPs are built to manage only one school whereas others can manage multiple schools. 
Benefits of School Management Software are:
Information sharing becomes fast and accurate.

School's data is safe from natural disasters or theft. 

Increase in data security and transparency in working.

Better analysis of students' and teachers' performance.

Management of finances and tracking expenses becomes simpler.

The system for managing administrative tasks is becoming efficient.

Going paperless and saving the environment, resources, and money.

The facility of real-time communication among parents, and teachers.

Data sharing, storing, editing, and updating become easy and error-free.

Facility to manage more than one school under the trust from one dashboard. 

Teachers save a lot of time that can be devoted to engaging more actively with students.

One single window to access any information at any time from anywhere but only after permission from school admin.
Schools have so many advantages if they use good school management software. It completely automates all their tasks which saves time and money for the schools. Monitoring student's and teacher's performance in real-time helps to improve the quality of education. 
Here is the list of the top 10 school management software in Gujarat.
SAF School Management Software
It is simple, affordable as well as flexible school management software. It enhances parents' engagement and improves teachers' productivity. They help in financial management, behavioral monitoring, and process improvement.  
RenWeb 
This school ERP helps school management and administration to handle processes like fee management, student enrollment, library management, study material management and many others quite smoothly.  
It is a user-friendly and advanced online-school management software. It is one of the most reliable and secure school management software with all features to manage a school's administrative and educational work. It has three exclusive mobile apps for parents, teachers, and school management. Communication and information sharing becomes very easy with CAMPUSDEAN.  
Bloomz
It has many features that teachers need to communicate and connect with parents. Messaging and quick updates feature is available that allows the sharing of photos and videos. 
Rediker
It enables a school to automate and streamline their tasks. They help connect schools to students, parents, and everyone in the community. This school management system guarantees the smooth functioning of the daily work of schools. 
Astral School Management Software
It has an integrated suite of modules that manages processes like salary processing, fees collection, admission processing, etc. This school management software is quite good and effective. 
MMI Vidya-Dhan School Software
They have a user-friendly school management software that aims at easing administrative tasks and enhancing the productivity and efficiency of the school. It is cloud-based and supports many modern technologies. 
EduConnect
This school ERP aims to make administrative work easy and fast. It has a school administrator and a class administrator. This school management software also provides a school portal that gives online access to parents to view student progress reports etc. 
Synapse School ERP 
It is an online school management system. It has a student fee management system, payroll management system, employee management system, employee attendance management system, finance accounting system, and other features for school management. It makes working very quick and smooth. 
JMD School Management System 
This school management system gives the total solutions to schools for computerizing their administrative work. They have various features to handle different tasks of the schools. 
It is our advice that you must very carefully choose a school management system for your organization. Do not compromise with the quality of the school software. Make sure it stringently follows data protection protocol and other safety measures for keeping the data of the teachers, students, and staff safe. 
We hope this list of top 10 school management software in Gujarat will help you to choose the best-fit school management software for your school or educational institution.
If you are looking for the best school management software in Ahmedabad, Surat, Gandhinagar, Vadodara, Jamnagar, Junagarh, Rajkot, Bhavnagar, Porbandar then contact CAMPUSDEAN. Call for a free demo at 9727735599 or email us at info@campusdean.com